Dumbarton Riverside F.C.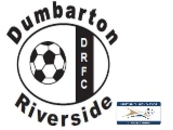 Dumbarton Riverside F.C.
A SFA Quality Mark Club
News Report
Club AGM - Friday 6th December Our club AGM will be upstairs at Dumbarton Bowling Club and will start at 7.30pm. With over 200 kids and disabled adults at our club, it's an opportunity for parents, carers and guardians to come along and find out how the club is progressing and a chance to have your say in how the club moves forward. It's expected that coaches from all age groups will be representing their team.
The Next Big Weekend Coming Up
The club's 3rd Annual Festival concludes this weekend with the children's events (2002s to 2008s) taking place at Vale of Leven Academy 3G Astro pitch.
On Saturday 19th the soccer sevens events take place with the 2002s playing on the grass pitches and the 2003s playing on the 3G astro (both from 10am to 1.15pm). At 1.45pm the 2004s take to the 3G astro pitch for their festival.
On Sunday 20th our 2005s kick off the day playing Super Fives at 9.30am. At 11.45am the 2006s get their run out for 2 hours playing the Development Fours format, as do the 2007s at 2pm and the 2008s at 4.15pm.
Best of luck to all the teams attending as there will be in the region of 650 players taking part. Here's hoping for some great weather.
Disability Festival - 21 September 2013
8 teams competed in our 2nd adults disability festival with Spartans from Edinburgh winning the cup. The plate winners were Claremont B who hail from East Kilbride. Well done to all teams taking part who were Stirling City All Stars (2 teams) Claremont A, Meadow United, West of Scotland and our own Champions team.
11-a-side Tournament - 17/18 August 2013
Well done to all the teams who recently attended our 3rd 11-a-side Tournament and despite the weather we managed to get some winners.
1999s - Cup Winners - Oban Saints & Plate Winners - Alba Thistle
2000s - Cup Winners - Westerton & Plate Winners - Kilpatrick
2001s - Cup Winners - Lenzie YFC & Plate Winners - Drumchapel United
Well done to all 3 age groups (1999s, 2000s & 2001s) and the 380 players taking part.
Soccer Sevens, Super Fives and Development Fours Festival
Our final event in this years Dumbarton Riverside Football Festival will be the soccer sevens festival on Saturday 19th October and teh Super 5s and Development 4s on Sunday 20th October. Many teams have already committed to come along on however there are some spaces free. Check out our Festival 2013 page which can be accessed from the above menu.
Winner of Scott Agnew signed Dumbarton FC Strip
The raffle draw for the signed Scott Agnew signed Dumbarton FC top was carried out at the Champions end of season night out on Tuesday 25 June. Trai (one of our Champions players) mum's made the draw and David Fisher's ticket was the first name out of the hat. David plays for our 1999s team and is one of only 4 players at the club who have 6 years continuous service and was here when the club formed in 2007. Well done David.
Champions win our club "Team of the Year 2012-13"
Well done to the Champions squad who have won our club "Team of the Year for 2012-13". The Champs have just completed their first full year with the club and have gone from strength to strength. The squad is a very healthy 20 players of a wide range of abilities and mobility. The coaches for the team have been supported throughout the year with other age group coaches coming along to share their coaching knowledge for the benefit of our players. Congratulations also go to Champs head coach Audrey who gave birth to Fraser Alasdair earlier in June.
The squad will also become our first team to play in a tournament abroad with seven of our players aged 16-21 heading off to France in October. More details on this later.
New Award for Riverside from SFA
Tonight (Tuesday 5 March) David McArdle from the SFA visited Riverside Champions at Hermitage Academy to award the club "Scotland United: Disability Club" to recognise the work by the club in establishing the team. On hand were Gail Burgess, club President and Alastair Bateman, coach.
Dumbarton Riverside FC are one of only seven clubs throughout Scotland to be the first clubs awarded this accolade. A huge congratulations also goes to the players who have turned up week in week out throughout the winter months to Hermitage Academy and also to Audrey Ferrier for all her great work with the team.
SYFA Central Development Squads for Fun 4/5s and Soccer Sevens
Most of the age group coaches have nominated 4 of our players to attend extra coaching from SYFA Coerver Coaches to learn the Coerver way using lots of games related drills.
Our coaches are also invited to help out if they are attending and also take some of the coaching techniques and drills back to their own training sessions. The 10 week programme starts on Thursday 10 January and will be on every second Thursday (not during the Easter holidays) and finish at the end of May 2013. Best of luck to all Dumbarton Riverside nominated players.
End of Season Night Out
End of Season Prize Nights
Age Group
Date
Venue
1999s
Fri 7 June
Dumbarton GC
2000s
tbc
tbc
2001s
tbc
tbc
2002s
Sat 8 June
Dixon Bowling Club
2003s
Fri 7 June
Dixon Bowling Club
2004s & 2005s
Fri 21 June
Masonic Dumbarton
2006s & 2007s
Sat 15 June
Harp Social Club
Champs
tbc
tbc
Festival Update
There is a selection of photographs from the 2001s, 2002s, 2003s and Disability festivals in the Photo Album menu above. Well done to all the players who participated at the soccer sevens festival to make is such a success.
More photographs can be obtained from our official festival photographer on their web site -
http://www.theimagefile.com/?skin=321840&Action=_VC&id=113670202&ppwd=pn2111df
Follow the site to get the latest news and results straight to your email